If you're looking for pristine views, rewarding hikes and spectacular sights of the natural world, an Australian vacation will not disappoint. It's no wonder why 8.5 million tourists traveled from overseas to visit in 2018.
With so many beautiful spots to see in the 7.6 million km² that the country covers, we've picked our top five that'll be sure to take your breath away:
1. Uluṟu-Kata Tjuṯa National Park
Enjoy the views at Uluṟu-Kata Tjuṯa National Park, which is home to Uluru, also known as 'Ayers Rock', and Kata Tjuta, a formation of 36 red-rock domes known as 'The Olgas'. This national park is the perfect spot to visit to watch the sun rising over the astonishing landscapes.
Uluru is sacred to indigenous Australians and listed as a UNESCO World Heritage Site, and the area around the formation has an abundance of springs, waterholes, rock caves and ancient paintings.
2. Lake Oberon
If you're looking for some hiking with gorgeous sights on the way, Lake Oberon in Tasmania is the place to go. It's part of the famous Arthur Range but these trails are not for the faint-hearted! You can expect jagged peaks, hanging valleys and rugged terrain, however it's worth it for the dramatic views that you won't see anywhere else.
3. Whitsunday Islands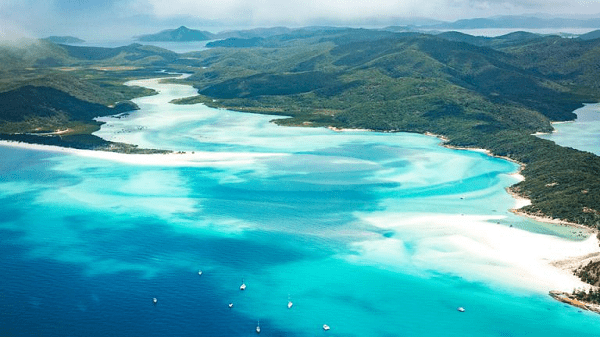 Located off the coast of Central Queensland, the Whitsunday Islands are known for their unspoiled, postcard-worthy views.
Head to Hill Inlet lookout to get the best view of the paradise of Whitehaven beach. The viewing platform can be reached by a boat ride and a short hike through the rainforest, and there you can have clear views of its bright white sands and swirling blue waters.
4. Mitchell Falls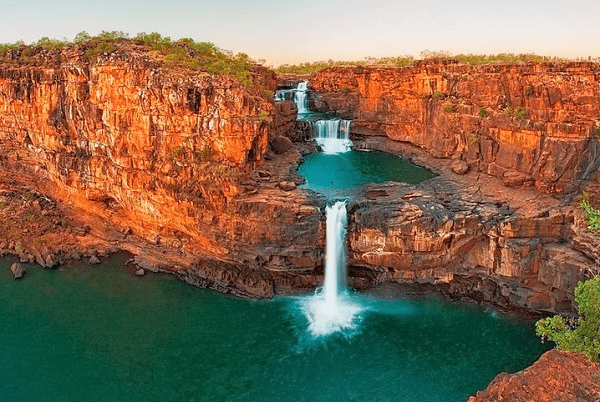 Mitchell Falls is a magnificent four-tiered waterfall in the remote Australian Outback – a little oasis nestled between rugged red rocks and under a clear blue sky.
The area is very private as it is off-the-beaten-track and fairly remote; it's possible to take an aerial tour if you're short on time but trust us when we say that the hiking route is incredibly rewarding.
5. Head of Bight
A bay located in South Australia; you can enjoy edge-of-continent views at Head of Bight. It's famed for its nature, notably as one of the most spectacular whale watching sites in Australia. From the jaw-dropping cliffs, you could catch sight of Southern Right Whales who take up residence there between the months of June and October.
If you're looking for a holiday you'll never forget, Australian vacations are perfect for adventure, nature-spotting and breath-taking vistas. Begin your trip at one of our favourite spots and explore from there – we're sure you'll agree that the country is home to some of the best views in the world!