There is no better place to have absolute holiday fun than Thailand! Its name itself even screams for it — Thailand means "Land of the Free" in Siam. And true enough, one is very free to do just about anything in the country. You can party all night, swim all day, and even charter a yacht with Simpson! You'd be free to follow your easy and laid-back holiday flow in Thailand! And all, for a budget that won't even put a dent in your wallet!
Why Thailand?
Thailand is easily the best place for a holiday getaway because you'd get to enjoy sunny weather at any given time of the year. You can sit and relax by the beach even if it's winter. It has breathtaking beaches and enriching culture. The country is 95% Buddhist so you can be sure that it is pretty chill. It is now also safe for tourists because as of press time (November 11 2022), the country has no new Covid cases. So yes, if you've been wanting to go on a beach holiday, now is the time to do so. And the country to visit is Thailand!
The Top 12 Fun Things to Do in Thailand That You Should Not Miss Out On
The following are the exciting things that you can enjoy in the tropical country:
1. Island-hopping, snorkeling, and diving
You could book a private charter yacht and have fun sailing while exploring 1,430 of Thailand's beautiful islands. A private yacht charter will also allow you to swim, snorkel, and dive at any given time.
2. Exploration of ancient cities
Visit the ruins of Ayuthaya to experience the glorious past of the Kingdom of Siam. You can also explore the 13th-century ruins of Sukhothai atop Thailand's extinct volcano. PRO TIP: You can rent a bike to allow you to easily explore 70 ancient sites within a 3-mile radius.
3. Responsible elephant tourism
Thailand is also home to Asian elephants. Elephants have played a great role in the country's culture. Most of the country's offered tourist attractions involve activities with elephants. You should of course avoid ones that are harmful and dangerous to elephants. You should instead check out those that will simply allow you to be with elephants. Being with them and observing them will give you a totally different feeling.
4. Chiang Mai Cooking Lesson
Thai food is legendary. This is why you shouldn't skip a chance to go food crawl in Chiang Mai or even enjoy one cooking session. You'd be amazed at how easy and satisfying Thai food preparation is!
5. Chiang Rai hills
Expert travelers always say that Thailand's northernmost part is its most beautiful area. Hence, you should not skip a chance to visit the ethnically diverse hills of Chiang Rai. You will be in awe of Chiang Rai's dramatic mountains, serene temples, and hill tribes.
6. Get romantic in Railay
If you want to be all romantic, then you should visit Thailand's captivating Railay. You'd love its soaring limestone karsts and white beaches. You and your lover could enjoy a slow day of just relaxing by the beautiful beach. You can even go rock climbing and cave-hopping. PRO TIP: Prepare yourself for traffic because visitors reach Railay via a longtail boat.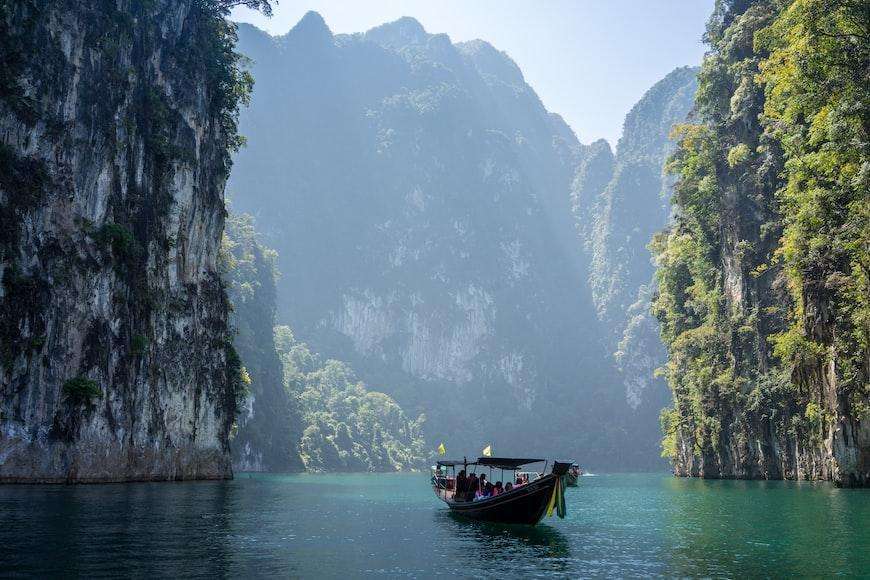 7. Hiking
Thailand is a fantastic hiking destination. If you have limited time, then you should simply go straight to Khao Sok national park. You will fall in love with its postcard-perfect views of limestones that contrast beautifully with emerald waters. While in the area, you can also go kayaking, rafting, tubing, and even sleep in a floating hut.
8. Kanchanaburi Adventures
Kanchanaburi is the place to visit if you're experiencing one adrenaline rush after another. You should not skip experiencing its jungle treks that will have you hiking in Thailand's beautiful rainforest. You'd love the adrenaline rush from doing action-packed activities while being surrounded by beautiful sceneries.
9. Homestay with a local family
This activity is for you if you want an authentic cultural immersion. You can fully and truly connect with Thai people if you'd opt to homestay with a local family. This is possible if you'd check out village tours and numerous community-based ecotourism (CBET) in the country. You can homestay at Muslim fishing villages or mangrove plantations.
10. Party in Phuket
Phuket is Thailand's most famous island. It is known for offering a legendary nightlife experience to visitors. In Phuket, you can easily party all night. Phuket is also home to Thailand's best resorts so it's easily the best spot to visit if you want to legitimately party and relax during your holiday getaway.
11. Thai Massage
You should not miss a chance to enjoy authentic Thai massage when in the country! Thai massage is especially revitalizing because it incorporates Ayurvedic principles. It would feel so good because you'd find yourself doing yoga postures while fully relaxed and enjoying a massage. A one-hour massage will also not dent your wallet as it would only cost you around US$7.50.
12. Backpacker lifestyle
If you're after experiencing Thailand's ultimate backpacker scene, you should visit the lush mountains of Mae Hong Son Province. It is home to Pai which draws backpackers from all over the world as it has a unique laid-back vibe, fun late-night parties, and cool cafes. Pai is breathtaking as it is in a valley that is surrounded by waterfalls.