Situated in the Laurentian Mountains in Quebec, Canada, Mont Tremblant is one of the world's favourite ski destinations. It's a winter wonderland for skiers and vacationers alike. The resort offers many activities such as snowboarding and skiing if you're into the adrenaline rush, and retail therapy as you wander around the shopping village. There are multiple hotels and resorts around Mont Tremblant which are perfect for a relaxing getaway, whether you're there to ski or just to kick back. Without further ado, here are five of the best accommodations in Mont Tremblant.
1. Fairmont Tremblant
This luxurious 5-star property is part of the Fairmont group, which has hotels around the world. It is located at the base of the Mont Tremblant mountain, where you have easy access to the shopping village as well as the ski terrain. For the price of $273 CAD a night, you can relax and enjoy the hotel's all-day restaurant, heated pools, fitness centre, and spa. Even if you're not in the area to ski, rest assured you will have a soothing time here.
2. Hotel Quintessence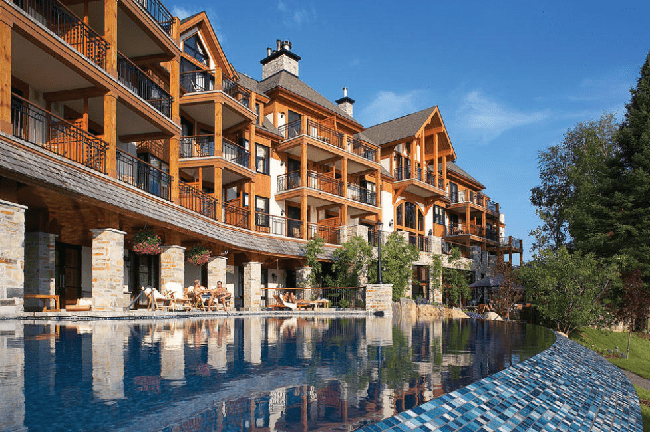 The Hotel Quintessence is a stone's throw away from the Mont Tremblant Resort and Village. Being a 5-star boutique residence, the hotel offers an excellent and personalised service as well as a relaxing atmosphere,. Stay in one of the hotel's 30 luxurious suites on your next getaway, and experience the serenity of its wood-burning fireplace, private balcony, and heated marble floors. The hotel's facilities include a fine-dining restaurant and a seasonal outdoor pool that overlooks the lake. Highly recommended hotel.
3. Residence Inn by Marriott Mont Tremblant Manoir Labelle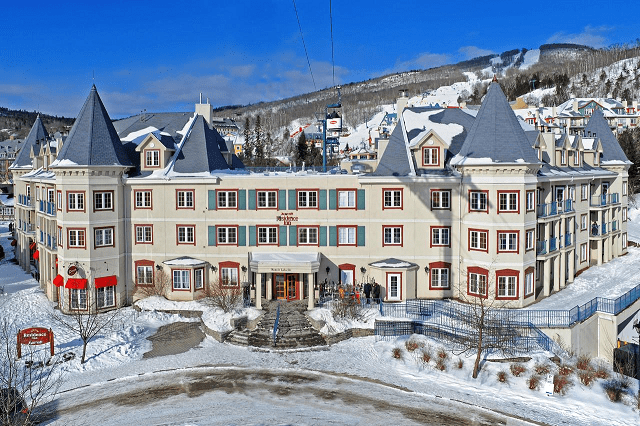 With rates starting at $236 per night, the Manoir Labelle is a ski vacationer's favourite. The 4-star accommodation offers various types of rooms, from the standard guest rooms to the studio and suites which include a flat-screen TV and kitchenette. The hotel boasts a grill restaurant and bar, a gym, meeting rooms, an outdoor pool, bike hire, and even childcare. The Manoir Labelle is just a short walk from the Mont Tremblant Ski Resort, making it an ideal place to stay on your next ski vacation.
4. Bel Air Tremblant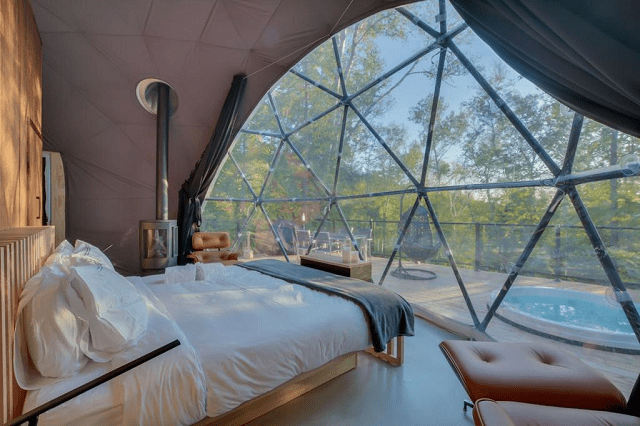 This spacious resort spans across 119 acres of land, with the Old Village of Mon Tremblant and the ski resort nearby. The Bel Air offers a full Mon Tremblant experience with 137 home lots instead of your standard hotel rooms. A number of these houses even allow 360 views of the area. Their mini loft size is designed with high ceilings, wooden doors and huge windows. Staying at the Bel Air Tremblant gives you access to the hotels' relaxing facilities such as their health bar, sauna, spa, and yoga studio. The kids will have plenty to do at the kid's room and teenagers club. Guests can also cycle down a path which leads to nearby activities like canoeing, horse riding, and fishing.
5. Le Westin Resort & Spa
For $178 CAD a night, this resort and spa at the heart of Mont Tremblant village is the perfect place to stay on a ski trip. The hotel offers guest rooms with a fireplace, and suites equipped with a kitchenette. Around the hotel, guests can enjoy a fitness centre and a saltwater outdoor pool, as well as a daily breakfast at extra charge.