Coworking spaces have become extremely popular over the years, with many buildings all over the world now catering for small businesses. Austin, Texas is no exception. With a rise in start-up businesses and the increasing cost of commercial offices, it makes perfect sense to work in a coworking space. There are so many coworking spaces in Austin available that it can be impossible to choose which one meets your needs, this article will help you search for the perfect coworking space to suit all your business needs.
The Commune
101 N Loop Blvd E, Austin, TX 78751
In the heart of the North Loop neighbourhood sits The Commune, a coworking space tailored for artists, creatives or anyone who enjoys working in a community environment. There is a range of memberships available at The Commune starting at $30 for a day price, $200 per month for two days a week or if you want a dedicated desk the price is $475 per month. Any member or day passers has full access to The Communes range of amenities, that have been purposely designed to help creatives.
Amenities include: Outdoor courtyard, lounge, printers and scanners, high speed internet, photo studio, conference room, private phone boots, art storage, design resource library, conference room, kitchen, free refreshments and many more.
MELD Coworking
502 W 30th St, Austin, TX 78705
MELD aims to make efficiency as easy as possible and provide comfortable workspaces to allow people to work but also network. The design of the property is to allow for people to work at work stations, whilst also having an area available to relax and take a break and interact with other members. Prices vary for this property, with $25 for a day pass, $320 for 3-5 visits a week or if you want unlimited access it is $400 per month. There are a wide range of benefits to MELD, the most crucial one being; free parking and bike racks. In addition the coworking place also likes to hold regular social meet ups to allow for members to interact with one another.
Amenities include: printers and scanners, complimentary beverages- including alcohol, high speed internet, soundproof phone booths, seated/standing desks, meeting rooms and large monitors, free parking.
Impact Hub Austin
411 W Monroe St, Austin, TX 78704
Impact Hub is located in an industrial style building. The spacious building offers plenty of areas for you to work. Their aim is to provide inspiration, learning and support between members. In addition to the shared workspaces, they also do social events to help networking amongst members. There are also regular yoga and meditation classes to help relieve any stress. Membership prices vary for Impact Hub, there are day passes at $35. Shared workspace desks from $300 a month or a dedicated desk for $500 a month. One of the benefits of Impact Hub, is no matter what membership you choose you have 24/7 access.
Amenities include: High speed internet, printers and scanners, free parking, unlimited tea and coffee, conference rooms and access to their events.
Work and Woof
4930 S Congress Ave building a, Austin, TX 78745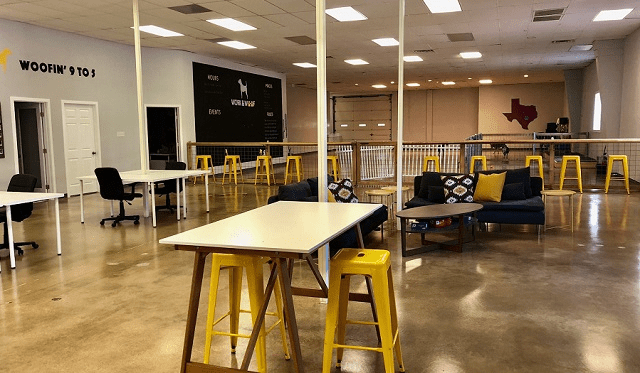 Our stand out coworking space in Austin, Texas is no other than Work and Woof. You have probably heard of 'bring your kid to work day' but have you ever heard bring your dog to work? Work and Woof offer an unusual but yet brilliant coworking space, where dog owners are allowed to bring in their beloved pooch to work. Their aim is to allow you to focus on your work and be productive, whilst knowing your dog is being cared for by trained professionals at no extra cost. Work and woof are inclusive for all breeds, just as long as they are sprayed or neutered and over 6 months. There is an indoor and outdoor park for dogs and from the hours of 7AM-7PM the noise levels are kept to a minimum to help members concentrate on their work. Like any other co-working space, their memberships vary. There 4 memberships start from $30 for a day pass, $400 a month for hot desk membership, $475 a month for dedicated desk membership, or $550-650 a month for a private office which includes free mail service.
Amenities include: Google fiber, printing services, kitchen access, private phone booths, beverages, office supplies, looking filing cabinets (for dedicated desks), private office space, open seating and most importantly doggy daycare.
Industrious Office
201 W 5th St STE 1100, Austin, TX 78701
823 Congress Ave STE 300, Austin, TX 78701
Industrious office has two locations both in downtown Austin where they offer a professional atmosphere and cater for all organisation sizes and stages. The beautifully designed building, allows for natural light and great views of the city. With 24/7 access to the building, you are able to be flexible with your working hours. Prices for Industrious offices are fairly pricey, for a virtual membership it is $150 per month, $860 a month for a dedicated desk and $1125 per month for a private office which can fit up to a team of 19.
Amenities included: High speed internet, conference rooms, office supplies, printing services, wellness rooms, mail services, breakfast and beverages, networking events and a fitness center is available in both buildings.
CRAFT
4620 East Cesar Chavez Street, Austin, TX 78702
CRAFT is the perfect place to unleash your creativity, it is aimed at artists or creatives doing diy, although you don't have to be an artist to join. This budget friendly coworking space is ideal for people who want to avoid large crowds and need a lot of space for work. The space can seat up to 40 crafters and 200 standing guests. If you are interested in this coworking space, then CRAFT offers a trial week priced at $10 and then monthly membership price is $60 a month.
Amenities include: Communal tables, individual desks, WIFI, kitchen appliances, beverages, wide range of art supplies and tools and social events.
WeWork
1400 Lavaca Street Austin, TX 78701
316 West 12th Street Austin, TX 78701
600 Congress Ave Austin, TX 78701
This coworking space has multiple hubs all over the world, with 3 locations in Austin. Not only are there hot desks available, there are also lounges available for breaks and interaction with other individuals. Membership prices vary throughout the 3 locations, starting at $350 a month for hotdesking, $560 a month for dedicated desks and $1,940 per month for private offices.
Amenities include: High speed internet, conference rooms, bike storage, mothers rooms, wellness rooms, office supplies, printing services, phone booths and recreational games. There is also a fitness centre and food hall in all buildings.