Situated in the San Gabriel Valley, Pasadena is considered the culture centre. Pasadena, may be known for its annual Rose Parades but it has recently become popular for its culinary experience. With over 600 restaurants in Pasadena and a variety of cuisines available there is something for all the family and all dietary requirements. This article will give you 8 exquisite restaurants for you to try whilst in Pasadena.
Bone Kettle
67 N Raymond Ave, Pasadena, CA 91103
If you are after Asian colorful food, then look no further than Bone Kettle. The family run business focuses on Indonesian, Philippines, Singaporean and Malaysian cuisine combining their fiery flavours and spices. Chef and owner Erwin Tjahyadi incorporates his mother's recipes with recipes from his travels, incorporating traditional and modern aspects of Southeast Asian food. They promote sharing food "family style" so make sure to try a range of food on the menu. They are well known for their homemade bone broth which is prepared for over 36 hours, which is then added to either sirloin, chicken, fatty brisket or oxtails. This place is a must to visit, if you are into flavor and spices, but it is worth noting that their vegetarian and vegan range is extremely limited.
Mijares Mexican Restaurant
145 Palmetto Dr, Pasadena, CA 91105
Mijares claims to be Pasadena's oldest restaurant in the city, having served authentic Mexican food since 1920. The family run business uses recipes that have been passed down through generations, which is why it has once been voted best Mexican food in Pasadena's Weekly magazine. Their homemade salsas are grounded with volcanic stone tools with freshly made tortillas. The restaurant offers menus for dine-in, take-out, catering and banquet with specialities including, enchiladas, burritos, tamales, tortilla soup, chile Colorado and many more. In addition to the food, be sure to get yourself one of their famous margaritas whilst enjoying the friendly and vibrant atmosphere.
Pie 'n Burger
913 E California Blvd, Pasadena, CA 91106
If you love a classic American burger or fruit pie, then Pie 'n Burger is one restaurant you should definitely visit if you are in Pasadena. Their famous cheeseburgers have been ranked by the Food Network as one of the top five cheeseburgers in America. The old fashioned diner is small, so it is the perfect place for a quick lunch with the family. Takeaway is available which may be ideal as you could be waiting a while to get seated due to its huge popularity. There are over 10 homemade fruit pies to choose from, including the classics; pumpkin, apple, rhubarb and pecan. Whether you are ordering their famous cheeseburger or their popular fruit pies, make sure to wash it down with one of their milkshakes to get the true American diner effect.
Carmela Ice-Cream
2495 E Washington Blvd, Pasadena, CA 91104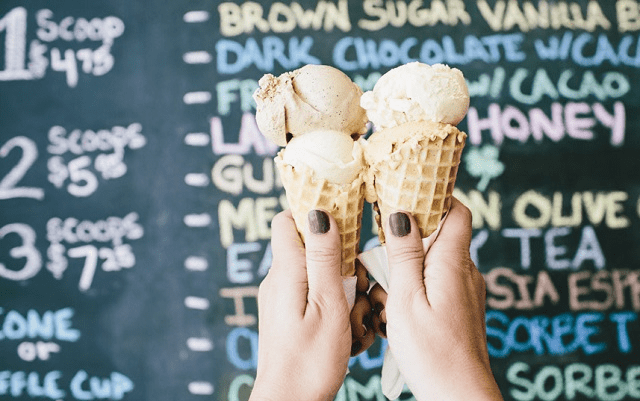 Want to cure your ice-cream craving? Then take a visit to Carmela Ice-Cream. It is no ordinary ice cream parlor, their unique artisan flavors have made it become extremely popular with customers from far and wide. With locally sourced, organic, seasonal ingredients there is a variety of flavors to choose, from salted caramel, strawberry buttermilk, matcha green tea and lavender honey. One of the great benefits of Carmela, is that they have a wide range of sorbet options suitable for vegans. If you are an avid ice-cream lover, then there are cooking classes available at the shop and they also offer catering for private events. In addition to the ice-cream, they also offer cookies or waffles that compliments their ice-cream.
Marston's
151 E Walnut St, Pasadena, CA 91103
If you are wanting brunch then this is the perfect place to go. Marston's are well renowned for their breakfasts and lunches, in fact they are so popular there are often queues every weekend to get seated, so make sure you arrive early. Located in a converted cottage, their homely, relaxed friendly atmosphere with high quality food is the perfect place to catch up with friends. Their mouth-watering French toast is something that should be tried or if you are trying to be healthy, then make sure to try their popular California Orange Salad with homemade San Pasqual salad dressing (which you can even purchase a bottle of the dressing).
Lunasia Dim Sum House
239 E Colorado Blvd, Pasadena, CA 91101
This is the perfect place if you are wanting Chinese cuisine but on a budget. Their small dishes (Dim Sum) are best served with tea and with family and friends. With so many options available to try, there is something for all. The modern Chinese dim sum cuisine restaurant has become hugely popular, especially their signature dish; steamed pork dumplings. When ordering your food, you select them from a checklist, making it easy to get carried away with your order, but any food left over you are able to take away.
Tibet Nepal House Restaurant
36 E Holly St #3905, Pasadena, CA 91124
For the adventurous food lovers, Tibet Nepal House is one that should not be missed. They specialize in authentic Himalayan cuisine, using fresh spices and herbs, making you want to come back and try more dishes. You should definitely try some of their Yak dishes available in order to get the real Nepal experience. If you are after a quick lunch on your work break, they offer buffet style food where you can eat all the Nepalese food your stomach can handle, from curried meats, curries, soup and a variety of naan breads. There is also a wide range of vegetarian options.
Conclusion…
There is a wide range of cuisines available in Pasadena and these restaurants are not to be missed. If your time in Pasadena is limited, then make the most of it; go for breakfast or brunch at Marston's, have an afternoon treat with some ice cream or sorbet at Carmela's and pick one of the family style restaurants to relax in the evening. There is something for all the family to eat in Pasadena, it is the place to be adventurous with your food and try new dishes.