Surely when you think about the Yucatan Peninsula or Riviera Maya, you imagine the paradisiacal beaches, the turquoise sea, the history and the places of the Mayan culture. However, many do not know that the Yucatan Peninsula has the largest number of cenotes in the world.
But… What are the Cenotes? In Mayan language the meaning is water hole, these were formed over thousands of years, when the meteorite that extinguished the dinosaurs fell over the state of Yucatan Mexico. This made that natural pools of all sizes are formed, the wonderful thing about these cenotes is that the water is fresh and virgin, since it comes from the deep of the earth, these are in a completely natural environment that for sure you will enjoy a lot.
No cenote is the same as another, they all have their own particular charm, you can get to know the cenotes that are called open, this means that you can get the sun while swimming in them, or the half open ones that also get the sunlight but have a piece of cave and the subway cenotes that are completely subway and no sunlight enters, in fact in some it is obligatory to enter with a guide since you must follow it along with a lamp so you don't get hit or lost.
The wonderful thing about the cenotes is that unlike the sea, there are no waves, so you can swim without any problem, although in all the cenotes the size and depth of the waves vary, some are very deep and others are not even knee deep. You can also find an endless number of fish that live in the cenotes and we recommend you rent or take some glasses to be able to admire the beauty that lives in them, you can not only admire these fish, but they feed on microorganisms so do not be surprised that when you get in and stay still you start to feel some small bites that do not hurt, it feels like tickling, this is because they eat the cells and dead skin, so let them clean your skin.
Cenotes Location
As we have already mentioned there are many cenotes along the Riviera Maya, although we recommend some specific ones that you will undoubtedly love, the cenote Ik Kil, is one of the most famous and visited because it is located near famous archaeological sites such as Chichen Itza and Ek Balam, Also the Cho Ha cenote is an extremely beautiful cenote since visiting it is like reviving in a fairy tale surrounded by beautiful vegetation and fauna characteristic of the Riviera Maya, The "Gran Cenote" also has its particular charm and you can visit it after visiting Tulum since they are very close.
As you can see most of the most touristy cenotes to visit are quite close to each other, so you can visit several in the same day if you want, some of them we recommend you to book excursions that include visits to the cenotes since they can also include visits to archaeological sites.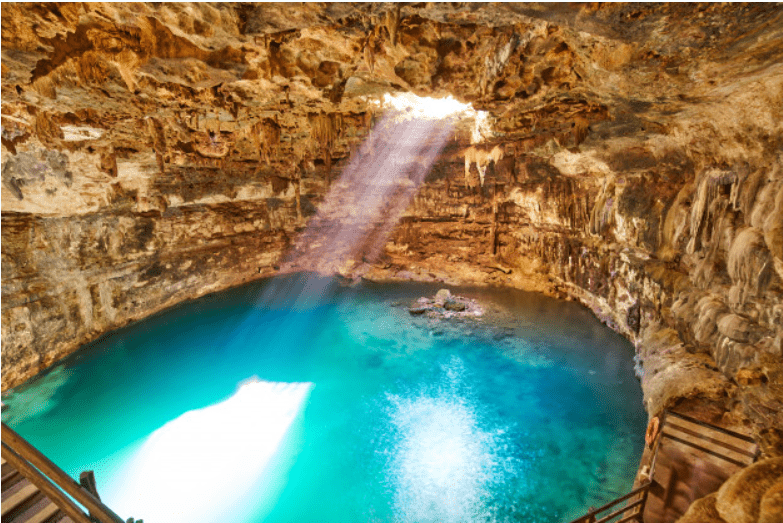 There are several ways to get to the cenotes of this destination, but it all depends on the type of tourist you are, and the places you plan to visit in your itinerary, the most popular ways to get to the cenotes are:
Renting a car
It is by far the most effective option, since with the price of your car rental you will be able to tour the Yucatan Peninsula as you please, and visit as many Cenotes as there are in the area, the rates are not high, the car rental agencies in Cancun as City Car Rental are usually cheaper if you hire them for a period longer than a week.
ADO bus
It is an economic option if you plan to go to a particular destination, otherwise it is more expensive (and uncomfortable) than renting a car, since you have to adapt to the departure time of the ADO buses, and when you arrive at your destination you will have to take a cab to get to the cenote of your choice.
Private Transportation Service
Of all the services it is the most comfortable, although the price increases a lot, especially if we compare it with other services, it is comfortable, because you do not have to drive and you can even hire an open service to be taken where you want, although it can be expensive to hire a private transportation company, it is comfortable, although it does not offer the same freedom as renting a car.
Main destinations to Cenotes in Riviera Maya
Each cenote is different and some have extra activities in their facilities, such as zip lines, obviously swimming and snorkeling in the cenotes, admiring the beauty underwater and the fish that live there. You can also find in some cenotes restaurants where you can taste a nice meal and the view of these natural pools, but we are sure that it will be one of the experiences you will never forget.
Cenote Ik kil
In the Ik Kil Archaeological Park, within the municipality of Tinúm, Yucatán, there is a beautiful cenote. This Cenote is the most visited in the Yucatan Peninsula, the proximity to Chichen Itza is only 3 kilometers, making it an obligatory stop in your journey through this adventure.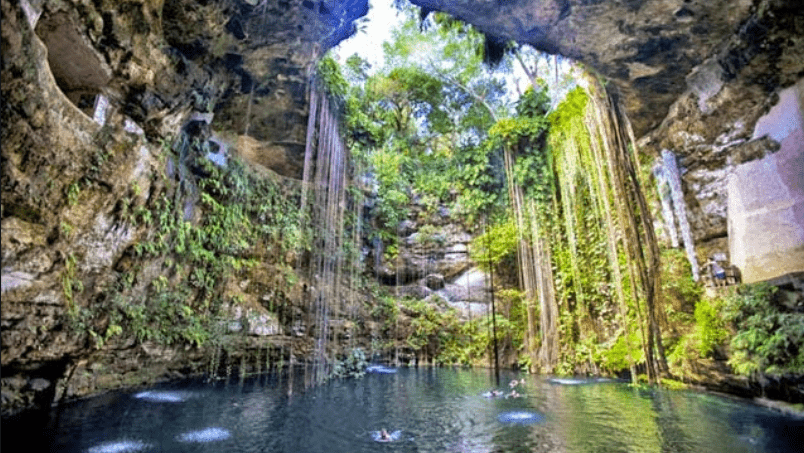 To access the cenote it is necessary to go down some stairs made of stone which first lead you to some balconies where you can enjoy the wonderful view they have and see the magnitude of the cenote and its 27 meters high. Later the path will lead you to a platform where you can see the depth that this cenote has (39 meters), being a half open cenote allows the sun's rays to enter and the water looks crystalline and the desire to swim in it grow more
Gran cenote in Tulum
The Gran Cenote is located approximately 3.5 kilometers from Tulum, on the same road that leads to Coba. The Gran Cenote is considered half open since it has a part that receives the sun's rays but also has a part with a cave.
This makes it the ideal cenote for those who love diving and snorkeling, because thanks to its shape it is possible to perform this activity, which has positioned it as the most visited cenote in the Riviera Maya.
Thanks to its crystalline water it is possible to see turtles and fish that live inside it causing an incredible charm.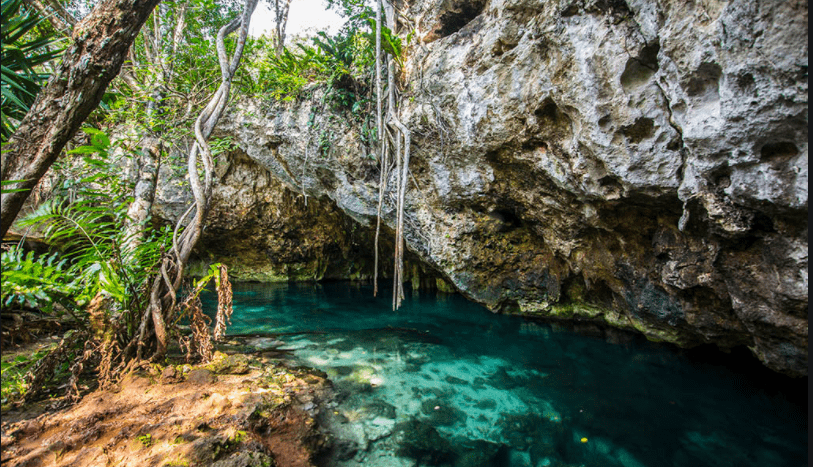 The cenote is surrounded by flora and fauna and this makes for a fresh, relaxing and peaceful environment. Although this does not prevent you from being perfectly conditioned for tourism since they have lockers and the rental of life jackets and snorkel.
It has a depth of 10 meters and in the part of the cave it can get to be 15 meters deep.
Choo Ha Cenote in Coba
Knowing the Cenote Choo Ha will make your skin crawl. From the moment you go down the stairs to get into its beauty you will feel how comfortable and peaceful this Cenote will make you feel.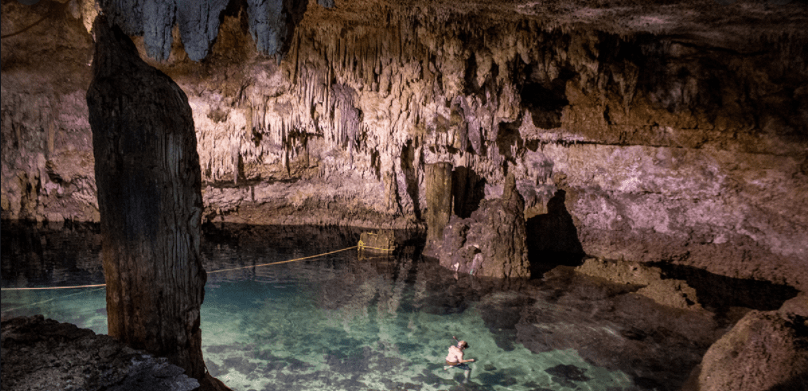 It is a closed Cenote, perhaps this will cause you a little doubt about the visibility you will have to know its charm, but do not worry the place has lighting which will make it even more spectacular and you can see the stalactites on the ceiling and stalagmites on the floor that make this cenote something worth admiring. As a curiosity Choo Ha means "water that drips" and its name is due to the stalactites and stalagmites that are in constant filtration and dripping.
The Choo Ha Cenote is located very close to Coba, only 15 minutes away approximately, so this makes it an essential place if you plan to visit the archaeological ruins.
Your adventure will begin when you descend a wooden staircase, which you must be careful with since the steps are always wet due to the humidity. As you enter you will be able to notice with the naked eye the stalactites that are within reach of your hands. The stairs are a bit steep, however at one point you will be able to see every corner of this beautiful cenote.
Its waters are crystalline and not very deep which allows it to be enjoyed by people of any age. The place has dressing rooms and bathrooms.
Cenote Hubiku in Valladolid
Valladolid, Yucatan is a magical and charming city, where you can find several tourist attractions. In one of its towns called Temozón, is the Cenote Hubiku, a semi-open cenote that has captivated many tourists. Perfect to spend a pleasant moment with family, friends or your partner.
Cenote Hubiku, means "the great lord" or "nest of the iguanas". It is a young cenote, since you will be able to see that on the surface it has a hole not very big but enough for the rays of the sun to enter and make the water have some incredible sparkles, allowing to show its charms, showing off the blue of the water.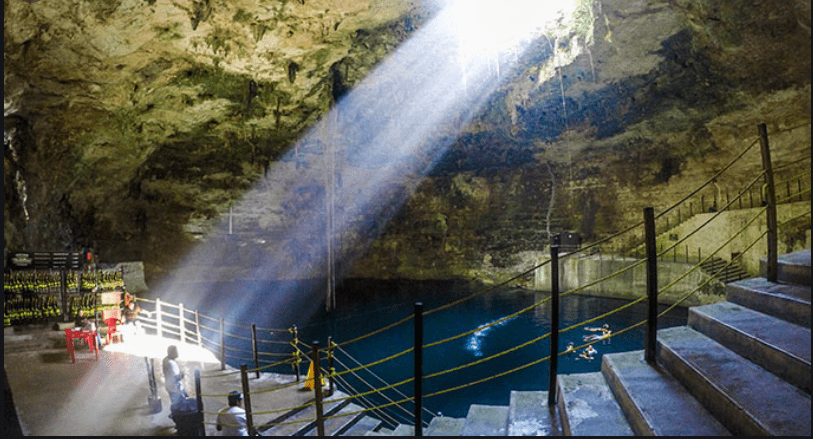 The Hubiku cenote is located very close to the city of Valladolid, Yucatan, in a town called Temozón. From your arrival you will see that the tour is a wonderful experience.
It is an authentic cenote since in its facilities, it has a museum; the one of the tequila, where they will teach you the process to obtain it and you will be able to taste some tequilas one hundred percent handmade. We recommend that you take some cash with you, in case you want to buy a bottle.
To descend to the Cenote it is necessary to go down 115 stone steps, as you descend you will be able to feel the freshness of the place. Its water, with its peculiar and striking color, will invite you to swim in it. We are not lying to you when we say that it is a unique experience, swimming in a cenote of fresh water will be a different sensation than swimming in the sea, but we know that you will love both.
The Cenote Hubiku, has a depth of 27 meters. If you aren't a good swimmer but don't want to miss the opportunity to swim in this place, don't worry, in this cenote as in most, you can request a life jacket. So, let's enjoy it!