Top Things to Do in New York Over Christmas
---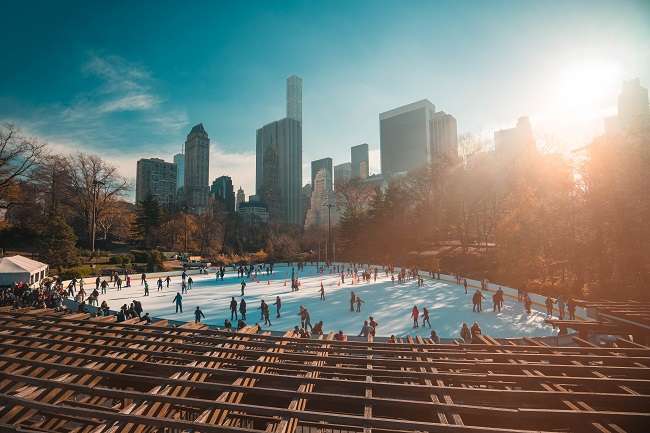 New York is the city that never sleeps. That's why you'll always feel the full blast of its energy no matter the time of day or year. DestinationMundo.com previously listed down some of the must-see places in this thriving metropolis, but if you're looking to go on a trip that's extra special, you might want to visit during the holidays. In truth, Christmas in NYC can be a magical experience, especially if you know where to go. That said, here are our top things to do in New York over the yuletide season.
1. Wollman Rink
One of the most popular holiday activities in NYC is ice-skating, and there's no better place to do that than at Wollman Rink in Central Park. The rink provides gorgeous views of Manhattan's skyscrapers, and is typically less crowded than the ice skating rink found in the Rockefeller Center. A visit here may even allow you to re-enact the ice skating scenes from popular films like Home Alone 2, Serendipity, and Love Story.
2. Rockefeller Center
The yearly assembling of the Rockefeller Center Christmas Tree has been a timeless tradition for New Yorkers. Its lighting ceremony always requires a live broadcast, as it kicks off the holiday season for the entire city. The tree, which has been featured in countless holiday-themed American movies, is usually around 70 feet tall. Writer Sarah Schmalbruch shared her first experience visiting this iconic Christmas Tree, saying that the area seems to be enclosed in its own magical, yuletide bubble. Despite the hustle and bustle that surrounds it, the tree brings out the holiday spirit and a feeling of child-like joy in everyone.
3. Radio City Christmas Spectacular
The Radio City Christmas Spectacular has been running during the holidays since the 1930's, and it is hosted by the famous dancing troupe The Rockettes. The show features bedazzling and memorable performances that involve precision dance moves, extremely high kicks, and even live animals. Parts of the show even require the use of 3D glasses.
4. Dyker Heights
Every year, the residents of Dyker Heights in Brooklyn decorate their homes with bright lights, animatronic toys, nativity scenes, and life-sized nutcrackers. The displays here can rival that of the Rockefeller Center and the department stores on 5th Avenue. And as a result, the neighborhood has rightfully become a tourist destination in its own right. This has helped increase property value in Dyker Heights. Yoreevo notes that the average NYC apartment cost $1,120,572 across all five boroughs in 2017, which means expensive properties are actually very common in the city. Of course, these elaborate decorations come at a price too, with the residents typically shelling out over $10,000 every year. It's not surprising then that some even place donation boxes among their installations to try and compensate for the costs.
5. 5th Avenue
Shopping is a key part of Christmas in general, but NYC really takes it on a whole new level. Stroll through 5th Avenue during the holiday season and you'll see the beautifully decorated Christmas-themed window displays of department stores. These displays can really bring out the holiday spirit in you, even if you weren't planning to shop. The decorations are best viewed in the evenings, but this is also when the streets of New York are the busiest.

DestinationMundo.com specialises in destination guides by local experts – Videos & Virtual Tours of the best Restaurants, Nightlife, Things To Do, What's On and more…..Subscribe to our newsletter to receive our latest travel articles straight to your inbox.