Restaurants in Phuket
---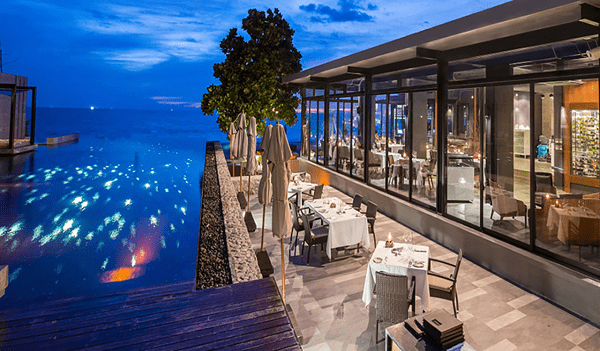 Baan Rim Pa
223 Prabaramee Road Kalim 83150 +66 (0) 7634 0789
Baan Rim Pa, founded by international restaurateur Tom McNamara, is one of the best-known restaurants in Thailand. Retired, but looking for a new challenge, McNamara converted his Thai-style cliff top house into a Thai restaurant offering Royal Thai Cuisine. Stunning views over Kalim and Patong bays combined with international standards of food and service to catapult Baan Rim Pa to the forefront of Phuket dining.
Phuket has a vast range of restaurants, which the myphuketinfo.com team has been dining in, and reviewing, for many years. Our restaurant pages cover the places we know and love and include just about every kind of food offered on Phuket Island.
The dream of tropical living has attracted many top restaurateurs to our island, so Phuket's restaurants are of a very high standard. Then there are thousands of local restaurants and roadside food stalls, many specialising in just one dish. If you feel adventurous select one packed with Thais diners – the food will be fresh and delicious.
Café Java
Rat-U-Thit 200 Pee Road, Patong, 83150
+66 (0) 8 7266 8664
Savour fine French and Thai cuisine at Café Java! Alan invites you to his newly-located restaurant in Patong with its spectacular décor and warm atmosphere.Kargo
Tinlay Square, 44 – 46 Lagoon Road, Cherngtalay
+66 (0) 7627 0891
Enjoy International dishes from around the world! Tapas, kebabs, Indian and British food plus the ever popular steak burgers and wraps are just a few of the delicacies to try.
Two Chefs
229 Moo 2, Koktanode Road, Kata, 83100
+66 (0) 7628 4155
The Two Chefs restaurant concept entails providing a stupendous dining experience, which includes superbly prepared and presented food, warm hospitality in an environment of smart yet casual sophistication. …
La Gritta
2 Meun-ngern Road, Patong, 83150
+66 (0) 7629 2697
Delicious Design, Contemporary Cuisine
Catch Beach Club
106/46 Moo 3, Surin Beach Road, Cherngtalay, 83110
+66 (0) 7631 6500
Phuket's Most Fashionable and Exclusive Beach Club – As a resident of Twinpalms Phuket, enjoy a preferred, carefree lifestyle at Catch Beach Club on bustling Surin Beach. The private, stylish beach club …
Blue Elephant
Governor Mansion Phuket96, 1/3 Krabi Road, Phuket City, 83000
+66 (0) 7635 4355-7
The 13th restaurant in the Blue Elephant Group chain, the Blue Elephant Governor Mansion Phuket Cooking School & Restaurant offers exceptional authentic Thai dishes served in a splendid setting, an historic …
Mom Tri's Kitchen
12 Kata Noi Road, Kata, 83100
+66 (0) 7633 3569
Unparalleled food and wines, unbeatable scenery and views of the Andaman Sea offer the perfect recipe for dining at the award-winning restaurant, Mom Tri's Kitchen. Once the secluded former residence …
The Current of the Sea
37and 39 Taweewong Road, Patong, 83150
+66 (0) 7634 4241 ext 5
An elegant pool and ocean villas at the boutique hotel La Flora Resort Patong along the beachfront mark the home of the seafood resort The Current of the Sea. A superb place to dive in to and swim with …

DestinationMundo.com specialises in destination guides by local experts – Videos & Virtual Tours of the best Restaurants, Nightlife, Things To Do, What's On and more…..Subscribe to our newsletter to receive our latest travel articles straight to your inbox.