Geometric designs—a perfect blend of modern and retro styles, use orbs, arcs, defining lines, and other geometric shapes to create wall arts, curtains, and other home décor accessories. The geometric approach to art is often minimalistic, with sharp, biting colors, white spaces, and deliberate arrangement.
Combining geometric wall arts and travel theme takes expert efforts. Achieving the feat means laying bright, modern, and vibrant contemporary prints—and of course, with retro features and inserting travel-themed accessories for the perfect blend. Let's have a look:
Oversized Geometric Wall Art
Imagine a wall art sitting on seventy percent of the largest wall in your living room. Imagine pyramids designed to their minimalistic bare—with straight lines and intently carved circles. Imagine a full white space adjacent to a cream-colored curtain with purple lines.
Oversized wall arts make a statement—a big statement. But with geometric designs, the minimalistic lines—thick and thin, make the wall art a little less overreaching and more calming.
A single panel frame may work well, especially vibrant colors that match other décor accessories like the sofa, lamps, and flower pots. When choosing geometric arts, you should consider the patterns.
Travel Souvenirs May Litter the Home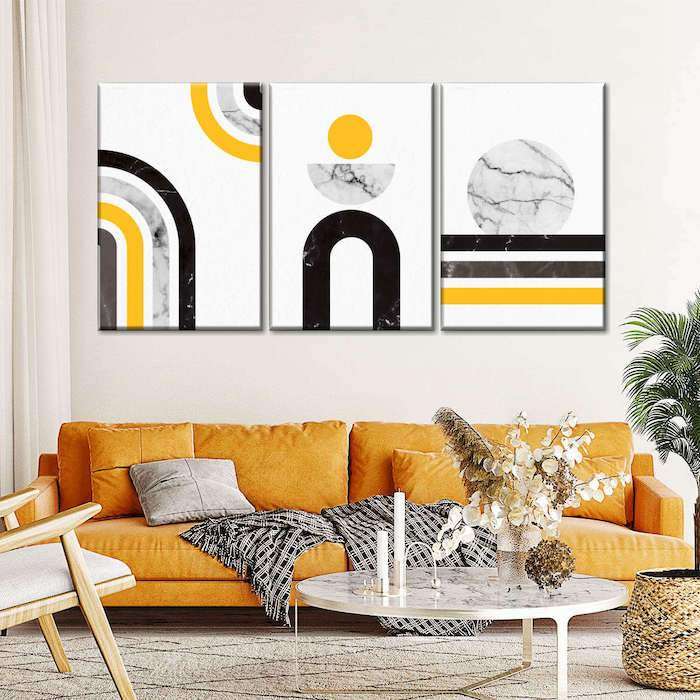 Geometric wall arts are patterned; so, why not combine them with some of your travel souvenirs—only this time, do not attempt to achieve a lot of meaning with the arrangement. For example, a stone you collected on the southern border of Brazil may sit close to an African pot designed in 1922. The table and small chair can lay just below multi-panel wall arts. The idea is to put items that bring travel memories around the home randomly—and the better, the more surreal it gets.
Wall Arts for the Living Room
The living room is usually the most prominent part of your home. It's a place that welcomes visitors, so why not make a mix of travel wall arts and geometric wall arts—delivered in radiant style.
While we advise on a retro-modern approach, combined with nostalgia, your living room's aesthetics may show more if you separate the two styles by hanging them on different walls. That is, while the large geometric wall arts may cover the most enormous wall in your home, travel wall arts should cover small spaces.
Photoprints in the Bedroom
You should have and keep photos of memorable events in your travels. Your beautiful memories may not find their way to your minimalistic or geometric sitting-room; they can, however, play important décor roles in the bedroom. For example, photo collages have long been considered the best means to blend memories into a single piece. Hang a collage on your bedroom walls and embellish the remainder of the design with accessories that show geometric patterns and lines.
– Find light bulb cases with pyramid shapes and rectangular shapes, and clear-cut lines between each rectangular stroke.
– Use curtains that have geometric patterns.
– Use floor tiles with different geometric patterns.
When décor elements like tiles, light bulb casings, curtains, and pots have geometric features, you can then use only travel photo prints in your bedroom.
Matching the Colors
Since geometric designs are often minimalistic, white spaces combined with vibrant colors will perfectly blend. You can also buy wall art with a purple accent or buy geometric wall art with different shades of the same color or different colors in the same color scheme.
Achieving beauty and class with geometric wall arts and travel décor themes can be daunting. You can simplify the process by sticking to a single color scheme throughout the decoration. Using lots of white spaces in your home décor will save you many troubles—especially if you are new to interior decoration.