Sydney Craves Good Food
---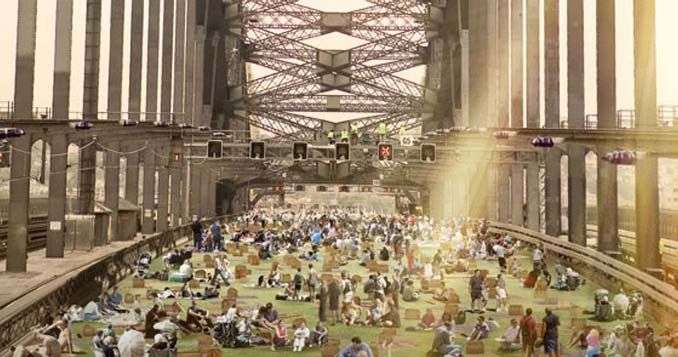 Sydney is one of the world's most culturally diverse cities, a huge melting pot of different countries from around the globe. So it's no surprise that the food here is in a league of it's own. Sydneysider's are a passionate bunch and this flows freely throughout the month of October when the city showcases its culinary prowess in the Crave Sydney International Food Festival.
This unique celebration of Sydney's extravagant food scene takes place in all corners of the city and offers the chance to dine in some extraordinary environments.
The most spectacular event being Breakfast on the Bridge. That's right, The Sydney Harbour Bridge will be transformed into an enormous grass picnic area for 6000 lucky people to lay out a blanket and enjoy a memorable breakfast experience overlooking the city and Sydney Harbour. The event is encouraging a green attitude, prompting people to bring picnic sets instead of using disposable plastic plates and to buy local produce to help support local farmers and producers.
Island Hopping is another event highlighting Sydney's love of good food and outdoor lifestyle. Hop a ferry and discover Sydney's hidden gems as you explore Shark Island, Clark Island and recently opened Goat Island. All three islands will host a feast of activities and provide an amazing backdrop for a barbeque or picnic on the Harbour.
If you prefer a more fine dining experience Dining on Fort Denison is not to be missed. This has to be one of the most dramatic dining spots in the city with front row seats of The Sydney Opera House and Harbour Bridge just across the water. Indulge your senses while savouring an Australian themed menu inspired by local ingredients and produce. This historic sandstone fortress was originally built to strengthen Sydney Harbour's defences against enemy attacks from foreign vessels. It is situated in the middle of the Harbour and is only accessible by ferry.
The Night Noodle Markets are an authentic Asian hawker market held in Sydney's Hyde Park in the second and third weeks of October. This event is hugely popular with more than 120,000 people attending in 2009. Featuring over 30 stalls serving up a fantastic and varied range of street food and live Asian inspired entertainment. The prices are reasonable and the atmosphere is magical.
Among the 600 events there are also hands on cooking classes for the aspiring chef and kids in the kitchen for the junior cooks and food explorers. Lunch specials are featured in restaurants and bars around Sydney's culturally diverse suburbs with exclusive deals on creative cocktails, wine dinners and 100 mile meals. Whole streets will be taken over with stages featuring live food demonstrations and music from local artists and special guests. This is truly one of Sydney's most popular events and a great way to interact with the locals. Come and see Sydney's top chefs at their creative best,

DestinationMundo.com specialises in destination guides by local experts – Videos & Virtual Tours of the best Restaurants, Nightlife, Things To Do, What's On and more…..Subscribe to our newsletter to receive our latest travel articles straight to your inbox.