The Best Islands in Costa Rica for an Escape
---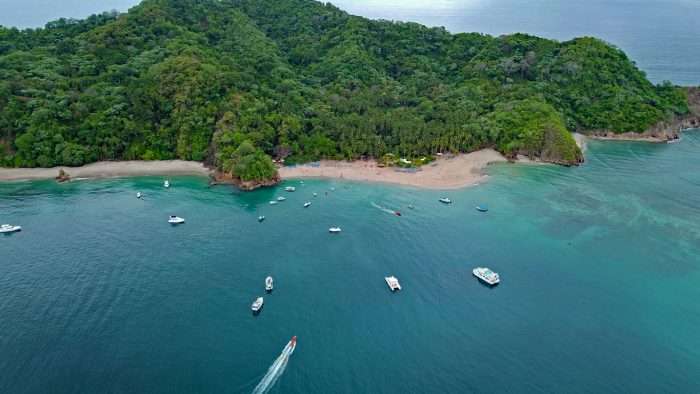 Costa Rica is a tropical paradise recognized as one of the Earth's last great wildernesses – home to smoking volcanoes, seemingly endless rainforest, pristine sand beaches, and half a million plant and animal species. It promises big for a small country – and delivers too!
Whether you're seeking the secluded sands of a palm-fringed beach or the adventure of a lifetime, you should be sure that any tours in Costa Rica include a trip to at least one of the country's sublime islands. Packed full of natural wonders both above and below the waves, the islands are the ultimate Costa Rica destinations for an escape from reality. Discover the very best of them here!
Tortuga Island
Located in Costa Rica's Pacific waters not far off the coast of the Nicoya Peninsula, Isla Tortuga (or Turtle Island) is part of the Islas Negritos Biological Reserve. A favored destination for day trips – there are no official spots to stay the night – numerous companies offer return sailings to the island from Playa Jacó, Puntarenas, and Playa Montezuma.
Taking its name from the turtles that nest on its beaches, the decks of the beautiful sailing vessels that ply the channel between the mainland and island are the ideal place to watch out for dolphins and whales, as well as turtles, during the 90-minute trip across.
One of the top spots for scuba diving and snorkeling in Costa Rica, dive sites include those with sunken ships thriving with octopus, angelfish, and shark among a multitude of other underwater species. Kayaking and glass-bottom boat trips are also popular ways to spend time on Tortuga.
Back on land, Tortuga's beaches are the perfect place to relax and soak up the sun, where lounge chairs and umbrellas can be rented very cheaply. Those looking for a little more adventure can head out for a hike through the jungle-clad hills, and even tackle the island's very own zipline through the forest canopy. There's no better way to end a day on Tortuga than by taking in the sunset over the Pacific.
Cocos Island
Further out into the Pacific's blue waters you'll find Isla del Coco, or Cocos Island, often compared to the feted Galapagos Islands that lie to the south. Roughly 550 km and 36 hours by boat (the only way to reach the island) from the Costa Rican mainland, the island has no permanent residents bar this national park's rangers. Protected since 1978, the island's importance was recognized internationally in 1997, when it became a UNESCO World Heritage Site.
Its nutritious waters attract all manner of large sea life, including hammerhead sharks, stingrays, and dolphins, making it another popular destination for scuba divers. It has been named one of the ten best scuba sites in the world by PADI – the Professional Association of Diving Instructors – and let's face it, they should know!
This island is also a haven for butterflies where hundreds of different species manage to find this speck of rock within the grandeur of the Pacific, alongside somewhere in the region of 90 birds that call the island their home.
The inspiration behind Robert Louis Stevenson's Treasure Island, Cocos Island has been known as a pirate base for centuries, with tons of gold stolen from Spanish galleons said to be buried somewhere amid the sands of Chatham Beach and the stunning string of sea stacks known as the Maoi.
Caño Island
Just a short distance 15 km offshore from the Osa Peninsula in Corcovado Bay in Costa Rica's far south, Isla del Caño is another pristine environment thanks to its status as a biological reserve. The channel that divides it from the peninsula is regularly used by whales, dolphins, and turtles. In fact, the island's waters teem with life and host the largest coral reef system on Costa Rica's Pacific coast. Unsurprisingly, as a result, Isla del Caño is a well-known diving and snorkeling destination, offering visibility of up to six meters, and a reef protected from the Pacific's currents.
While exploring the island beyond the palm-fringed and near-white beaches (where Olive Ridley turtles lay their eggs), be sure not to miss the strange, perfectly cut stone spheres weighing up to two tons. They dot the island, with plenty of examples in the northern stretch open to tourists. Still something of a mystery to scientists, they are believed to have been carved by the now extinct Diquis culture that lived in the region before the arrival of the Spanish.
Murciélagos Island
Also known as the Bat Islands, the Islas Murciélagos are located in Santa Rosa National Park, on the northern coast of Guanacaste province. Around 50 km from Playa del Coco, they can be reached in about an hour by boat. While their English name may bring to mind the flight of animals over the islands, their waters are actually known as the feeding ground for giant manta rays and smaller devil rays, that can form huge schools.
The islands are also one of the only places in the world where it is possible to dive with bull sharks, that can reach lengths of seven meters. Diving at sites including the perhaps aptly named Big Scare is, however, restricted to advanced divers due to the currents and depths involved.
San Lucas Island
Only 10 km away from Puntarenas, Isla San Lucas is today, a protected forest reserve, although in former times it was the island jail for some of the region's most dangerous criminals. Visitors are able to visit the prison, including the maximum-security cells, on pre-arranged tours, which sometimes also include a stop at Isla Tortuga. Costa Rica's Alcatraz dates back to the 1930s and 40s, when the island was a place to fear. Today it is place to delight in thanks to its combination of history, wonderful beaches – of which there are 19 – and wildlife that includes Congo monkeys, skunks, anteaters and iguanas.
Both near and far, Costa Rica's islands are true treasure-trove destinations for visitors. Offering more attractions than some countries, these islands are packed full of sights and activities, whether you're seeking out the perfect tropical beach, or a dive site known throughout the world.

DestinationMundo.com specialises in destination guides by local experts – Videos & Virtual Tours of the best Restaurants, Nightlife, Things To Do, What's On and more…..Subscribe to our newsletter to receive our latest travel articles straight to your inbox.