Located in Missouri along the Mississippi River lies St Louis. The city offers a wide range of shops from luxury department stores to independent boutiques, there is something for everyone. Whether you are buying for yourself or searching for the perfect gift, you are sure to find what you are looking for here in St Louis. There are a wide range of shops that sell handmade and one of a kind products in antiques, furniture, jewelry and fashion. This article will provide you with the best unique shops located throughout St Louis where you are guaranteed to find unique purchases from local artists.
STL Style
3159 Cherokee St, St. Louis, MO 63118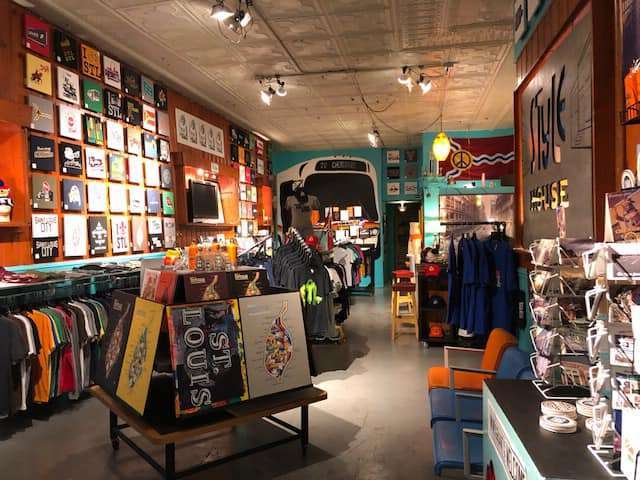 What started in a kitchen it has now evolved to a cool, vibrant shop with unique and funky prints that cannot be bought elsewhere. Whether you are looking for a souvenir, a gift or something for yourself you are guaranteed to find something here. Not only does the store offer printed t-shirts, they also provide customized prints where you can get personalized t-shirts, posters or bags. The store also provides a selection of bags, hats, stickers, posters and t-shirts which have local neighborhood designs. The store has become hugely popular since opening due to its laidback cool vibes from the store and owners and its comical and quirky designs. Be sure to visit when in STL.
City Boutique
4300 Manchester Ave, St. Louis, MO 63110
If you love a bit of colour in your life, then be sure to visit City Boutique. They cater for all sizes ranging from small-3XL. They have a wide range of clothings for all occasions, from holiday clothes to formal and party wear. There are lots of different prints available exclusive to the shop, so be sure to stop by for a nosey. This vibrant shop also has a wide range of statement shoes and jewelry available, with lots of glitter and rhinestones available in the shop.
Bowood Farms
4605 Olive St, St. Louis, MO 63108
Located in a restored 1920's warehouse lies a unique shop that incorporates a cafe, a studio and a garden centre. With their passion for plants and gardening and their distinctive shop, it is no wonder why Bowood Farms have gained popularity from customers. When it opened in 2006, it originally focused on selling plants but as time passed they added another layer to the business to help connect with the customer and help promote a sustainable and calming setting. The Studio promotes local artists with classes including yoga and pilates. Cafe Osage also serves local garden fresh produce. Their Holliday section also provides a wide range of products including; home accessories, jewelry, bath and body, candles, books, kids and children section and much more, it is the perfect place to find a gift. There is something for everyone at Bowood farms, whether you are shopping for yourself or someone else or simply want to visit the cafe.
Urban Matter
3179 & 3189 South Grand Blvd. St. Louis, MO 63118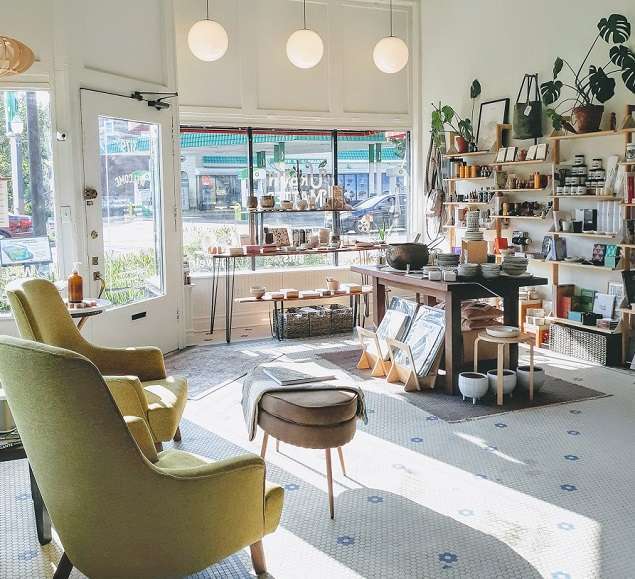 This highly popular bohemian boutique has the perfect home décor accessories and gifts available in St. Louis. With their stock sourced from artists in St. Louis, Missouri and beyond, it is no wonder Urban Matter has become a favorite in the community. Urban Matter work with mostly independent makers and brands with a strong focus on craftsmanship and minimal packaging when possible. Not only does the store offer home accessories and gifts they also offer design services, wedding registry and custom lighting and leather goods.. It is the perfect place to shop for a present or to treat yourself, with bespoke statement jewelry, trendy leather handbags, wax candles and cute postcards.  Urban Matter have expanded and now occupy two storefronts on the same block, just a few doors apart.  You are guaranteed to find the perfect gift for someone or yourself in this store. Urban Matter is a unique store for a unique city.
Gringo Jones Imports
4740 Shaw Blvd, St. Louis, MO 63110
This quirky vibrant store is a hidden gem in St Louis. The shop sells a range of stuff from pottery, art, garden items and antiques. There is so much stuff in the shop, make sure you have time so you can properly explore. When you enter the store, you will also see the three friendly dogs sitting on the sofa. This unique shop is the perfect place to find quirky pieces for funky people.
Apotheosis Comics
3206 S Grand Blvd, St. Louis, MO 63118
What makes Apotheosis Comics so different from any other comic store, is their mission statement, the idea that it is not just a place that sells comics, but a community where people can socialise too. Apotheosis Comics continue to disregard society's norms that comics are for children. That is why, the store also offers a bar and seating area where comic enthusiasts can sit together and drink alcoholic or nonalcoholic drinks. Proving that there is no age limit for reading comics. The store also stocks comic related novelty gifts, and has weekly events. One of the popular events is the reading groups for children every Saturday.
Fauxgerty
1800 Chouteau Ave, St. Louis, MO 63103
With an ethos on sustainability, and incorporating modern fashion for women, it is no wonder Fauxgety has St.Louis talking. The company has a strong focus on being socially conscious, cruelty-free and eco-friendly and has produced quality garments such as vegan leather jackets, with linings made from plastic bottles. Fauxgerty clothes are created with the aim to reduce fast fashion mentality and where clothes can be worn throughout seasons and for all occasions.
If you live in St. Louis or find yourself visiting the city then we recommend you to take the time and take a look at the above shops.